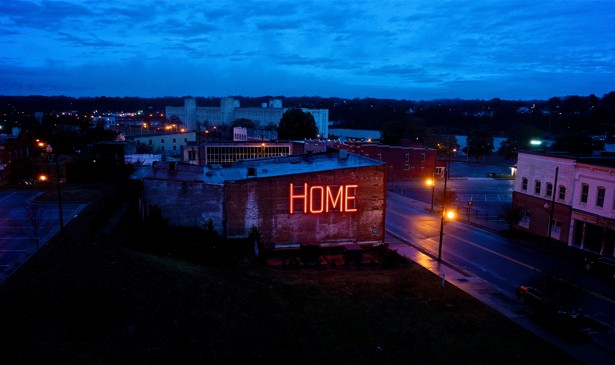 Factory towns face problems when the factories shut down. Everyone has heard versions of that story—involving steel and auto plants in the Midwest, sawmills in the Northwest, coal mines in Appalachia or copper mines in the Southwest, other facilities in other towns.
On a recent visit to Southside Virginia—the part of the state bordering North Carolina, and far from the tech-and-government-driven boom of the D.C. suburbs in northern Virginia and the military-based economy of Norfolk and the Tidewater—we were reminded of the problems cities had even when those factories were up and running. We also learned about the way they are trying to apply the mixed blessings of a lost manufacturing heritage as they figure out their next act.
Our visit was centered in the city of Danville, which Deb Fallows wrote about here. Danville is the major city within Pittsylvania County, which is geographically one of the largest in the state. The city's population is about 40,000, split roughly 50-50 black and white. In its day, it was one of the richest places in the Piedmont area, and a major center of first the tobacco and then the textile industries. Danville was also, for a one-week period in April 1865, the final capital city of the Confederacy—with implications down to the present, as we'll explore in upcoming dispatches.
Now textiles have disappeared almost entirely, and tobacco hangs on in much-reduced form. (These days, the main tobacco-business force is JTI, or Japan Tobacco International, which has bought brands like Natural American Spirit and Benson & Hedges, and has expanded its warehouse and processing facilities in Danville.) While Virginia's population has boomed—roughly 4 million in the 1960 census, 6 million in 1990, 8 million in 2010, and rising—Danville's is a little smaller now than it was in the 1960s. This part of southwestern Virginia and western North Carolina has endured the simultaneous collapse of the three industries that were the mainstays of its many small towns: tobacco, textiles, and furniture making. Danville's comparative good fortune is that it didn't have as many furniture factories to lose as some neighboring places did.
---
And yet: Danville is now benefiting from another aspect of its battered industrial heritage, which it is beginning to turn into an important city asset. How? Please read on.